Get started today with a free personalized consultation.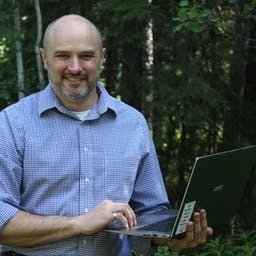 Founder and lead designer, Phil Peters has worked in web design and digital assets for over 10 years. He is passionate about building systems that work, serve people well, and communicate what you have to offer with the online world.
He currently lives near Westerose in Wetaskiwin County, Alberta where he is an entrepreneur and actively engages in the community. Phil and his wife are raising a family on a rural acreage and when he is not designing websites he also dabbles in radio, aviation, and motorcycles with his friends and family.
Glicka.com tailored web design was created to give your clients a
beautiful, functional

website. We create a

hassle-free

experience for you.

Phil
Reach out to schedule a free consultation with one of our designers.
Select the web design package that is
right for your business
A functional, attractive website tailored to your home business, nonprofit, or single product.
3 pages
365 Support
30-day Money Back guarantee
A comprehensive full feature website with extended capabilities. Google analytics and SEO tools built in.
10 Pages
365 Support
30-day Money Back guarantee
10% Hosting Discount
Customized support for what you need, when you need it.
We know not everyone's business fits in a neat little box.
* All prices are subject to GST
Sit back while we make magic happen.
Glicka.com builds sites though WordPress and now also with bubble.io.
Sites generally take 6-8 weeks from consult to launch.
"We can start right now and I promise there's no spammy email coming from me,
just a friendly reply that get's the conversation going around what your website will look like."
We're proud to serve a variety of small, local businesses through web design, hosting, and support. As a result of launching or tailoring websites for our clients, visitor counts have shot up and they keep coming back more often. Analytics is available on every site we build so that you'll see the results for yourself.
Evan Blumhagen
We are very pleased with our new and improved website. The layout is visually appealing and the graphics and information are very representative of our business model and vision. Thank you Phil, for the time you spent learning about our core products and services while you set up the website and for timely follow-up to our questions and suggestions. We look forward to working with you as our business grows and changes in the future.
A specialized aviation Crew Resource Management training service provided by non other than myself and partner Chris Toornstra. This website is built on the WordPress content management system platform with a theme provided by Themeforest. Look for more aviation websites designed by Glicka.com Web Design coming soon.
With personalized service, a full
range of tech support, and a decade
of experience, glicka.com will set you
up for success.
Let's get the ball rolling with your free consultation. We're happy to answer any questions and help you hone in on the right website solution for your small business.
"Making systems that work, really work, is such a joy for me. Serving small businesses by getting them set up online with sites that do what they need to do without unnecessary hassle, is what glicka.com is all about." –
Phil Peters